Earth Hour 2010 is going on today, March 27,2010 at 8:30pm, your local time.
A WWF organized global event, Earth Hour began in Sydney, Australia in 2007. Following their lead, many other cities around the world participated in this event the next year. And now, this global event is reaching even more cities all around the world.
Basically what happens is that for one hour, starting at 8:30pm your local time, you shut off your lights. That's all. All it takes is one switch and you're one in possibly a billion people helping out to move from polluted air to cleaner air. Of course that's not the only benefit, but it's definitely one of the strongest. The goal of this event is to raise awareness in the world about climate change and energy conservation.
Last year, almost one billion people, in 87 countries, switched their lights off for this event. Among the greatest landmarks on the globe: the Las Vegas strip, Empire State Building, Big Ben, the Great Pyramids of Giza, and more, shut off their lights for an hour also.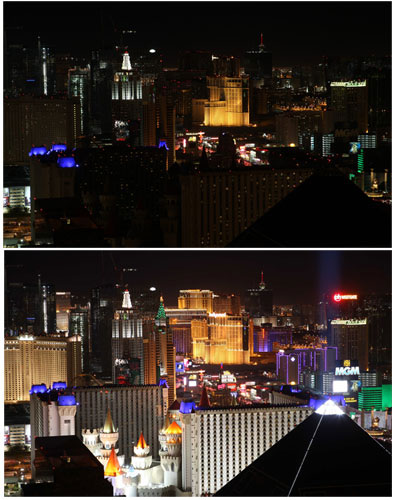 The Las Vegas Strip 2009
Eiffel Tower, Paris 2009
This year, new monuments deciding to take part in this event include: Mount Rushmore, the Forbidden City in Beijing, and the world's tallest building, Burj Khalifa in Dubai.
If you want, you can sign up for Earth Hour.
Of course you can take part in this worldwide event but that's not the only thing you can do. Recycle, switch off your lights when you don't need them, carpool, save water, and countless others.